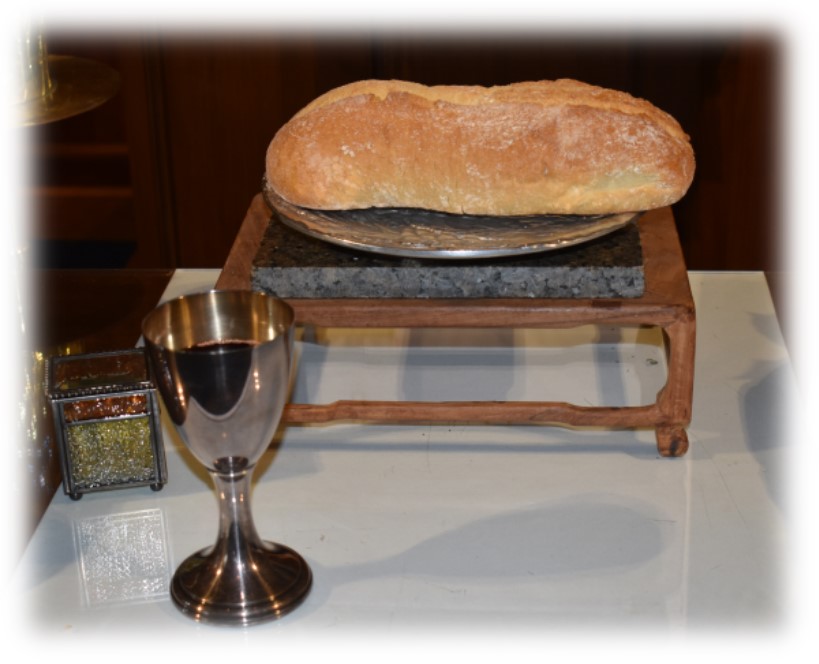 Home
Church
2113 Sassafras St.
Erie, Pa. 16502
Pastor Donnie
Blystone
Sunday Service
August 14, 2022
Beginning 10:00 a.m.
See us on
Facebook
August 7, 2022
Dear Church Family,​​​​​​​
On this very warm and humid morning, thirty-six of us gathered to worship at Table of Grace. Jim shared the announcements, led our Call to Worship, and read our scripture verses from Psalm 16:6-11. David wrote, "The land you have given me is a pleasant land. What a wonderful inheritance! I will bless the Lord who guides me; even at night my heart instructs me. I know the Lord is always with me. I will not be shaken, for he is right beside me. No wonder my heart is glad and I will rejoice. My body rests in safety. For you will not leave my soul among the dead or allow your holy one to rot in the grave. You will show me the way of life, granting me the joy of your presence and the pleasures of living with you forever." During the Children's Message, Donnie spoke with the kids about trusting people. As the children watched, Donnie played a trick on Larry, convincing him to dump a cup of cold water on his own head. Donnie pointed out that sometimes people will trick or deceive you, but God is always trustworthy. Donnie used a series of Old and New Testament passages to build his sermon about always trusting in God's love and promises. The entire worship service can be viewed on Facebook, by searching Table of Grace UMC and scrolling down to the video for August 7. Please remember that you can send your prayer requests to
TOGprayer@gmail.com
or contact me at 814-873-0451. We are happy to pray for you and your loved ones.
Following the message, Jim led us in reciting the Apostles Creed, followed by a time of silent confession. We celebrated the sacrament of Holy Communion, remembering our Lord's sacrifice for our sins. We are so grateful to Phyllis and her daughter, Kelly, for preparing our communion table and caring for the altar.
Prayer Requests:
I thanked Donnie for his comforting and inspiring message about trusting in God's eternal love and care.
Mary Alice asked for continued prayers for four month old Riley Rose, who is in Cleveland Clinic awaiting a heart transplant. She suffered some setbacks which caused her to be placed lower on the transplant list. Please pray for a miracle for Riley and for God's comfort and strength for her family.
Please pray for our dear friend, Pat Ritenour, who suffered a fall that resulted in two breaks in left arm. Pat, who recently celebrated her 90th birthday, has been in our prayers this year and has suffered much loss and sorrow.
Cliff and Karen Shaffer, who attended Simpson a number of years ago before moving to Florida, need our prayers. They lived behind the church on 22nd St. Cliff is very near death. Please ask for God's comfort and strength for both of them.
Please continue to keep Scott in your prayers.
Katie is still not feeling well and needs our prayers for healing and strength.
Rick had a prolonged episode of digestive discomfort that sent us to the ER last evening. They were able to determine that it wIas not related to heart issues. He will follow-up our family doctor. Thank you for your prayers for his continued recovery.
Please continue to include those prayers that remain unspoken when you pray.
Helen learned that Mary Adams is home from the hospital. Please pray for her continued recovery.
It was such a joy to have Wilma Davison with us today, along with Marcie, LeeAnn, Alan, and Sherry's family.
We pray for traveling mercies for Barb, Kelsey, Evan, Luke, and Jillian returning home from California. Happy Birthday to Barb on Tuesday!
Happy 3rd birthday to our sweet little great-granddaughter, Alaina, tomorrow!
Please pray for God's peace in our world.
Announcements:
Alcoholics Anonymous will meet Tuesday evening at 7:30 p.m. in the Fellowship Hall.
Please remember to support Erie United Methodist Alliance with an online donation on Tuesday, August 9, through Erie Gives. You can donate online at
eriegives.org
.
Bible study will meet on Wednesday at 5:30 p.m. in the patio. Nancy will lead us in a discussion of Matthew 21 and 22.
We are getting close to the Second Annual Golf Outing on Sunday, August 28, to benefit the Bedroom Makeover Ministry. Next Saturday, August 13, there will be a breakfast meeting at the church at 8:30 a.m. Following that we will go out to visit our sponsors and gift basket donors from last year who have not yet responded to Cathy's letter. We still need golfers!
Next Sunday, at 2:00 p.m., our conference bishop, Cynthia Moore-Koi Koi will be at Table of Grace to meet with pastors and committee chairpersons of the churches who have expressed an interest in disaffiliation from the United Methodist Church.
The Ride for the Refuge will be held on Monday, September 6. Please see Les to sponsor him and Violet.
​​​​​​​
Have a blessed week! Brenda